WikiPanda for Windows Phone
The Wikipedia Reader for Windows Phone 7
Download Now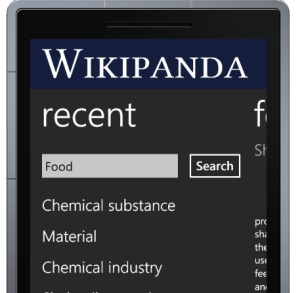 Read Wikipedia the way it was meant to be read. With WikiPanda, access Wikipedia using a beautiful, intuitive user interface. WikiPanda provides an experience tailored specifically for Windows Phone 7, providing fast, easy access to the largest collection of knowledge ever compiled.
Wikipedia + Metro
WikiPanda was designed specifically for the Windows Phone, using clean and simple guidelines to provide an unparalleled reading experience. From the moment you start the application, WikiPanda provides you quick access to Wikipedia: search and see recently visited articles, find out what featured article of the day is, or discover what happened on this day in history.

Find what you're looking for
WikiPanda helps you find the content you're looking for. As-you-type autocompletion will help narrow down your choices, and you can search on both Wikipedia and Google.
Optimized for the Phone
Wikipedia content is styled to look as good as it can on your phone - important text is larger, unimportant content is hidden and images are front and center.
Support for Multiple Languages
With version 1.5, Wikipanda supports multiple languages. The Featured Article and Today's Events are available in English, French, German, Italian and Chinese. Search in multiple languages simultaneously, view pages in any language the phone supports.
Hear what users say about WikiPanda
Very cool Wikipedia app, nice clean design and fairly fast load times. ★★★★ – jonnymilba

Excellent app! Extremely well made! ★★★★★ – GrandeInter10

Well designed, useful, fast, and free! ★★★★★ – ThufirX